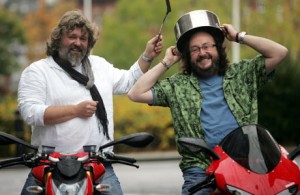 Two hairy fat camp geordie food poisoners who can out-shite an indian takeaway.They bring a whole new meaning to newcastle brown.
Time to cunt the hairy bikers.
On the subject of shite which of the camp duo does the steering and who rides pillion? How did your pubic hair get into the mayo? After you with the goose grease dude.
Nominated by : Sir Limply Stoke