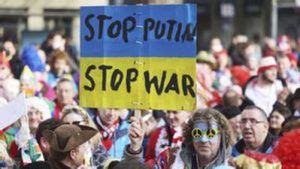 Fake Public Sympathy.
This isn't a cunting for those raising donations for food and clothing or medical supplies or even offering up a spare room to a family, done in the right spirit they are worthy causes for a humanitarian crisis.
I'm talking about the sort of cunts who have now changed their avatar on their Facetwat page to the Ukrainian flag, the one who now has it flying on a flagpole outside of his house that I saw whilst driving to work – this cunt had an EU one flying for several years too whilst we were fucking up Brexit. A month ago I doubt they knew what it looked like or could even find Ukraine on a map of Europe.
Did they have pin badges, flags and stickers for Syria (still ongoing) Afghanistan or Iraq? Like the cultish doorstep clapping for the NHS, this is less about showing solidarity and support and more about BEING SEEN to show it, a sort of narcissistic one-upmanship.
As fake as a Jussie Smollett hate crime.
Nominated by Liberal Liquidator