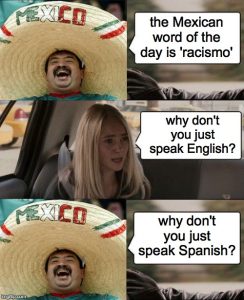 No link for this cunting as its from my experience, i would like to nominate cunts who have lived in this country for years and yet have made no effort what so ever to learn the fucking language.
Had a customer yesterday, fucking rinkydink, but other shades as well, who we have known for years, every time we see them its a pantomime, pictures, drawings, sign language trying to get the pricks to understand what they are paying for, we through all the usual bollocks yesterday, explaining that the job will be finished on the next appointment.
Guy turns up today moaning about what i spent the best part of an hour explaining in painful detail to him yesterday[ if only i could charge for the time wasted, he would fucking understand then first time around i bet], with every other sentence containing [why dont you get someone who can translate on the fucking phone] ffs, these cunts really wear me down, i usually have the patience of a saint, but this fucker nearly got the tablet today…..
Nomination by Fuglyucker. Link by C.A. A link adds gravitas to any cunting just like learning the language of the country you live in.