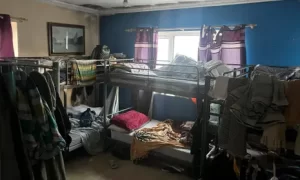 The BBC has served us up with a tasty morsel today.
A 41 year old man died earlier this month when fire broke out in a three room flat in Tower Hamlets. There were between 18 and 21 people sleeping in the flat ffs! Needless to say, the residents were of a dusky hue.
Of course, we now have the finger pointing. The illustrious Tower Hamlet Council were warned of the situation several years ago but action came there none.
However , my main target for this cunting is the landlord. Speaking through a translator ( draw your own conclusions), he said that he was unaware of the conditions in the flat he had let it to threes people.
The place contained numerous bunk beds ,it resembles a WW2 submarine.
I am now waiting for compensation claims to develop and David Lammy to announce the the chap who died was his friend.
Bbc news
(Link provided by Ron Knee)
Nominated by: Guzziguy