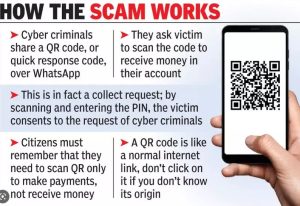 Over the last 12 months I have read so many reports in the MSM and computer media regarding how scammers are moving away from trying to hack into computers using viruses and malware, and have since moved on towards hacking into apps where you can pay using your phone.
The Weakest Link is the QR code (or Quick Response). This looks like a barcode but is a method where a phone installed with a QR reader can scan and interpret the QR code in order to make a payment for a service.
The link below is just one example where scammers can produce dodgy QR of their own, which they then place on top of legitimate QR codes (or remove the latter completely). The victim comes along scan the code and then finds his bank has been hacked and his money pinched.
These scams can happen anywhere where cashless payments by phone/card is your only option. The providers of these services warn customers to be "vigilant" about using QR codes, which to me seems like they're shifting responsibility away from themselves and onto the punter to worry about.
Nearly everywhere you go these days retailers are demanding that you pay cashless by either contactless card and/or "download the app". You'll see it even more or train stations, carparks, airports and not just ordinary shops.  All of which means that you are being tracked not only by where you are and what you've bought, but also the sharing of your personal information stored on your phone. And its this that hackers are after, which means we have to be even more cautious how we use an app.
The "Go Cashless" project is just another complication in an already complicated life for a lot of people. And using these apps to pay for things is just another example.
Nominated by: Technocunt