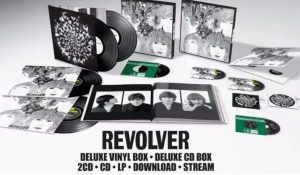 The Beatles and Apple Records are cunts.
As some might know, there is yet another Beatles cash-in imminent. As a reissue of the 1966 album 'Revolver' is about to surface.
Now, the fact that a 5.1 Blu-ray disc of the album won't be included in the ludicrously priced box set, yet they will make it available via streaming (thus even more cashing in and screwing fans) shows them to be the cunts they really are.
However, there's more, and worse…. For the book that will come with the 'Revolver' box set, there will be an 'enlightening' (their words) essay by some person called Questlove.
Now, who the fuck is Questlove? I hear you ask. And no, until now, I had not heard of him either. Well, he is Ahmir Khalib Thompson (born January 20, 1971), known professionally as Questlove (stylized as ?uestlove), apparently an American musician, record producer, disc jockey, filmmaker, music journalist, and actor. He also wasn't born when 'Revolver' was made and has nothing to do with the Beatles or their history.
There are genuine Beatles historians like Mark Lewisohn and Keith Badman who could do an essay for a Beatles project. So, why has this ?uestlove (fuck me) got the gig? He's a dark personage? Ah!
The Beatles (what's left of them) have gone woke and 'diversity'. Even the glorious past of the 1960s is not out of its reach. Got to get you into my life, the YouTube ad for 'Revolver' says….. Not if I can help it.
Nominated by: Norman