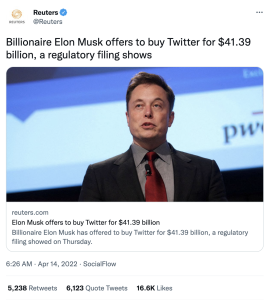 Many people appear to have recently jumped on the 'Elon Musk is great' band wagon. I'm here to suggest they ought to disembark forthwith.
He's become filthy rich by selling not that many Duracell cars. How is that even possible? Government subsidies perhaps? Then not content with adding to the wave of electric personal transportation (itself an abomination), the cunt then decides he'll have his own space programme. Like NASA don't know what they're doing. Notice how his crap rocket isn't powered by a couple of hundred million AAs.
Things changed when he shined a light on the hypocritical leftist woke waste of time the world knows as Twitter. Suddenly he's a man of the people and an unofficial spokesperson of the many who loathe and despise the blatant moderation, coercion and manipulation of that particular social media platform. Hail Elon!
Not so fast matey boy.
In recent weeks he's back tracked on his buy out of Twitter, claiming too many fake or bot accounts. At time of writing his position is he hasn't been provided with the data he requested and that constitutes a breach of the agreement he and Twitter entered into. If that's the case, then walk away. Publicity stunt anyone?
He may or may not eventually buy Twitter, but my final piece of evidence for the prosecution is this. He recently decided to revoke all work from home at his shit company, Tesla. It's his company and he should be able to make any rules he likes within the confines of the prevailing laws. However, it's how he communicated his decision which highlights what an absolute cunt he is. The following link provides the quotes and back story:
It boils down to 3 quotes.
1) Workers should return to an office location and work alongside their colleagues and work "a minimum of 40 hours" per week. If the terms of your employment contract/offer letter states a 40 hour week, why should you be expected to work more than that in order to make him richer? Sacrificing time with friends, family and essential rest and relaxation just to line his pockets? It's also an unspoken threat too. Imagine you just do your 40 hours each week. Do you think you'll be in line for a promotion anytime soon? Will additional hours be compensated? (Take a guess) What about laws restricting the working week to 37.5 hours or laws which cap the maximum hours you can work? Should you break the law to keep this cunt in the lap of luxury?
2) He said a constant physical presence at the company has been integral to its success. "That is why I lived in the factory so much, so that those on the line could see me working alongside them. If I had not done that, Tesla would long ago have gone bankrupt". That may or may not be true, but it's HIS company. He has everything to gain and everything to lose.
Assembly line workers are not in the same position as him, but he seems to think it's OK to hold them to the same level of personal sacrifice as himself. That's absurd. Many companies have cunts like this. The boss who comes in super early or works super late and because they do, that's the standard everyone should be held to. It's a form of bullying, intimidation and control. Not a good look.
3) When someone on Twitter suggested his views on employees reporting to a physical workplace are antiquated he said, "They should pretend to work somewhere else". So what he's saying is he doesn't trust his own employees to do a proper day's work unless they report to a Tesla office.
He's also saying that employees working from home are all skiving and effectively stealing from the company by accepting a salary but not working to earn it. Wow! These would be the same employees he, his managers and HR department hired then, right? If they've hired a bunch of lazy, skiving, dishonest freeloaders, what does that say about their screening and hiring process? Pointing a finger at someone means you're pointing 3 fingers back at yourself.
So there you have it, m'Lud. A modern day Richard Branson with an egotistical, self-obsessed, attention seeking personality who's got mega rich off the backs of workers and tax payers and then rubs their faces in it while pretending to be a 'right on' man of the people.
In other words, a cunt.
Nominated by: Imitation Yank