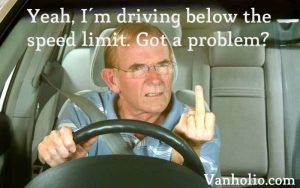 A nom close to my own heart – I am not a patient Man, when I am in the motor I have to be where I have to be or I lose money – so why do half the fuckers on the road do 20, 30, 40 below the speed limit, constantly put their brakes on when there is nothing in front of them, indicate and slow down even more for the turn they slow down even more to execute and (this one is fucking infuriating) insist on doing 55MPH stuck resolutely in the overtaking lane on the motorway!
Priority right at roundabouts? Not when you are a dithering Doris or a chav wot don't need to stop, init? Doing 60(ish) on a 60 road? Not when Honda man and micro car Woman can toddle along at 38MPH admiring the roadside scenery and apparently completely oblivious to the half mile tailback behind them.
Keep a decent speed or get off the fucking road. I do not drive aggressively and do not suffer the "road rage" thing, but by fuck do these useless sods annoy me.
Nominated by: Vernon Fox