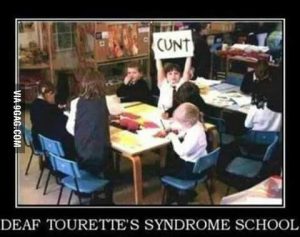 The BBC et al are quick to champion every minority group. Trannies. Botty bashers. Darker skinned types. People with bits missing.
However, I am disgusted at their lack of recognition of those with Tourette's Syndrome.
Until fine, upstanding chaps like those in this video are sitting next to the likes of Gary Lineker, Rio Ferdinand or Philip Schofield, I consider the BBC, Sky, BT, ITV et al to be Nazis.
Even better, let's put them up as MPs.
I refuse to vote for any of our useless cunts at the moment, but I'd definitely vote to see these lot during Prime Minister's Questions
Indeed, I suggest a movement to get chaps like these into such positions. Let the BBC and your MPs know how you feel and demand equality and inclusion for Tourette's sufferers.
YouTube Link (NSFW)
Nominated by: Cuntybollocks