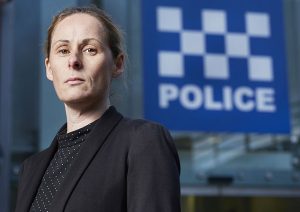 Lisa Theaker is Assistant Chief Constable to Cleveland Police, who in 2019 were rated inadequate and a failing force and put into special measures. So with a total lack of self-awareness for herself or the force she serves, ACC Theaker has decided to use her police skills and experience to take part in Channel 4 show Hunted as she and her team track down celebrity crooks.
Trying to justify her actions she burbled she wanted to "rehabilitate the forces image" and "to both represent the North East and amplify women's voices". Well I'm sure the taxpayers of Cleveland will be fucking thrilled on her personal crusade and vanity drive but couldn't she do this in, well…her actual paid job.
Cleveland was recently named one of the most crime-ridden places in the country so it must be galling to see this cunt truffle put so much time and effort into a TV show where's in real life like a lot of the country, victims of crime are treated as an inconvenience and fobbed off with a useless crime number whilst police complain about "cuts".
It should be noted that she is using her holiday allowance to take part and her fee will be donated to charidee of course but that really isn't the point. With shades of MP Nadine Dorries eating wombat bollocks on I'm A Celebrity…… its a public relations disaster.
Lets hope these celebs don't go on Twitter and misgender some degenerate, the coppers would hunt them down in about half an hour.
Nominated by: Liberal Liquidator