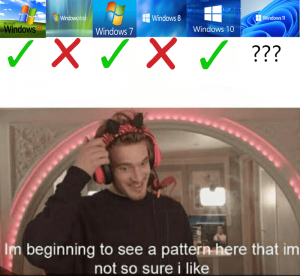 Despite words to the contrary, Microsoft has released the latest Windows OS, and OMG what a complete shitshow they've made of it when it comes to finding out if your current PC/Laptop is capable of the upgrade!
Windows 10, was rolled out in 2015. Microsoft insisted that there would be no further versions and that W10 would evolve over the next 10 to 15 years.
Us tech-heads knew that was bullshit because MS can't help themselves with releasing new versions every 5 or 6 years (good versions that is!) And surprise surprise, 6 years after W10, here comes W11.
However, the PR department at MS really have dropped the ball in terms of letting existing users know if their machines are compatible using their PC Health Check app, and their W11 System Requirements Documentation, both of which came into direct conflict with each other.
Without boring you any further with details, your machine probably won't be good enough for the free W11 upgrade if you have an old CPU and/or lack TPM2.0 because MS want you to dump your old machine and buy a brand new one with W11 already installed.
Cynics think MS are in cahoots with the big PC manufacturers into wanting you to spend hundreds or even thousands of pounds on new tin just to be able to run W11. Moreover, it also means that a lot of perfectly good PCs will be dumped either into landfill sites or fly-tipped – not very good for the environment (think of poor old Greta!)
MS fucked up the release of Windows 8, and followed up with a half baked 8.1
It then released W10, but every time they rolled out new updates it fixed some problems and created many others, to the point where W10 is wholly unreliable. Which may explain why the guys at Redmond want to brush 10 under the carpet and replace it with W11.
But if they can't even get their upgrade apps to work correctly, what hope is there of W11 being any more stable than its predecessors?
My advice! Don't bother with W11 for at least another year. There's no need to upgrade because quite frankly having installed W11 on my VMware it just ain't worth the bother.
Linux is the way forward, but if you're totally dependent in Windows, then stick with 10 for the foreseeable future until the fuck-monkeys at MS get their shit together.
Nominated by: Technocunt
and this from our old friend Dioclese
A good few years back I was offered a contract with Microsoft at the 'campus' near Reading. Three months, good money, close to home. What could go wrong? Well, they hadn't a fucking clue and after a week I deliberately caused a ruckus and got my self kicked out.
I remember a banner across the huge developers office. It read "Remember – the future of the world is in your hands today" One night – and no it wasn't me – someone took a big fat red pen and wrote across the bottom "We're fucked then!"
Watching the ensuing witch hunt was truly delicious…