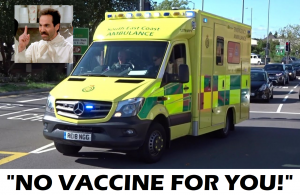 The Brighton and Sussex University Hospitals NHS Trust offered vaccines to ambulance staff on December 27. But anger arose when South East Coast Ambulance Service (SECAMB) allegedly forbid staff from getting the jab, despite the vaccine potentially going to waste if not used up.
SECAMB management said that staff should not access the vaccine in this way and they will be informed when it is being rolled out to them.
The union shared a Facebook post from the South East Coast Ambulance Service (SECAMB) which say they have 'protocols to follow'.
The post read: 'We've been made aware of an offer of staff to drop in for their Covid-19 vaccine at a hospital site in our region. We appreciate the offer was made in good faith but we have protocols to follow in this regard. We would ask that staff do not do this.
GMB said: 'To forbid its staff and individuals who have risked their lives all year to save the lives of others from accessing life-saving vaccines from is nothing short of potentially a criminal act.'
I totally agree and in my opinion the brain dead cunt who made this decision should be sacked immediately for gross misconduct and endangering life. He's a fucking idiot…
Nominated by: Dioclese
Link provided by: Dickie Dribbler
https://www.union-news.co.uk/gmb-steps-in-after-managers-ask-frontline-medical-staff-not-to-get-vaccinated/