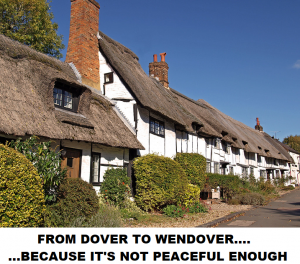 Wendover in the leafy home counties.
Why so? Well, they have prepared to receive Syrian refugees. Arabic speakers have been sourced. School places organised. Jobs found. How humanitarian and caring.
And the influx of said refugees? – 1 mother, 1 father, 2 small children. And even that has been delayed due to Covid restrictions. 4 refugees.
I may be a bit of a cynic but while the rest of the country, including rural Pembrokeshire is inundated with these fuckers does sleepy Wendover imagine it is doing it's bit? Can they sleep easily in their virtuous beds? Will the WI have a cake raffle to support the newcomers? Soppy, Southern, do-gooding cunts. They should build a mosque to ease integration.
Nominated by: Cuntstable Cuntbubble