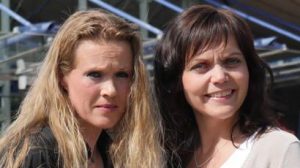 Ellinor Grimmark and Linda Steen are cunts, aren't they?
Who are these yeasty Scandoes and why do they look both barely-calm and barely-evolved? Well, they're midwife nurses who, after their refusal to carry out abortions on religious reasons, were rightly sacked. Swedish legislation requires midwives to perform abortions.
They claimed that their freedom of conscience had been violated and that that they had suffered discrimination as, despite being educated to be midwives, the two God-botherers have been turned down for midwifery jobs. They argued in several Swedish courts but lost their dispute.
In the long-running case Sweden's discrimination ombudsman also ruled against them. Even the ECHR (cunts themselves) declined to take up the Devil-dodgers' case.
Although midwives aren't obliged to do the same in the UK, it still raises the question: Is it right for nursing employees to refuse to offer care? D O D G Y
This reminds me of when some rágheads working in M&S refused to stock shelves with alcohol bottles for fear of offending Alläh! If you can't do your job because of a wacky religious belief, find another job.
Better still, if you know in advance that the job might violate your belief in bearded men living in the sky/an 8th century goat shepherd god/space aliens/bedsheet-wearing bald, Krishna-nutters/purple-robed, papist pædós/Judaic Abraham, Isaac, Jacob, Ganesh the blue elephant or any other variety of cloud fairy….don't fucking apply.
Nominated by Captain Magnanimous