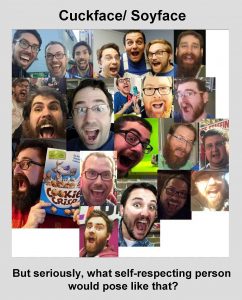 A nomination for the man of today, otherwise known as a cuck.
This has been on a slow burn for me for a few months but recently I found that a close friend has been experiencing a similar problem with a few people he knows. These people have been friends for years, yet in light of events of recent times, seem to simply stop replying to texts or messages because you don't share a political opinion (we both voted leave,) or you've mocked the Waitrose mums marching against Brexit, or you feel sympathy for old people because they get hit or pushed for wearing a MAGA hat, or you detest the BBC's open hatred of anyone old, white and straight, the very cunts who pay the majority of the licence fee.
There's no discussion; you're simply beyond the pale. Sometimes you get a snide comment about how they're now embarrassed to introduce you to their circle of trendy cunt mates they've started fraternising with, sometimes via a smug wife/ girlfriend with a well-paid public sector job, who wants her friends to be his friends, and his old mates can now get fucked.
No more pubs, it's the wine bar and dinner parties for him.
Unfortunately, they're actually the specimens with the bigger bollocks; a lot of these Jessies are simply not willing to even acknowledge your continued existence. It's happened to me a few times in the past few years, but recently it seems very petty. The visit of Trump seems to have uncovered a lot of unthinking vitriol in people I thought more sensible.
While not defending Trump, I questioned the tactics and attitude of his critics in the establishment and during the protests in London.
Nowadays it seems this is enough to get you ostracised from certain circles of thirty-something know-betters, with that smug, condescending smirk they pull, or even more pathetic, a performed rictus of faux-disbelief, because they saw Afua Hirsch or Jess Philips do it on 'Have I Got News For Cunts', or they pretend to be fair-minded 'liberal' diplomats when really they'd love to see landowners set on fire. They're murderously right-on, feral Left Soy Boys. They just cant say this stuff to someone four inches taller and four stone heavier than them. Something that ten years ago would be a point of heated but healthy debate, is now a disastrous moral and social faux-pas.
I wish they'd have the balls to tell me why they disagree and why I'm now worse than Hitler. I'd rather know where I stand with them, as men of my Dad and Grandad's era used to. I'd rather be called a fascist than wonder what their problem is.
I know these people are posing as something they're not and living the woke lie to impress some pretty but vapid and emotionally volatile bit of fanny who will end up cheating on them for a richer, older man with his bollocks swinging low, but functionally intact.
I feel sorry for their fucking kids.
Nominated by Cuntamus Prime