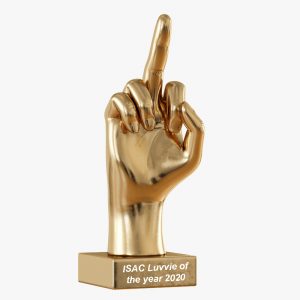 The ISAC Luvvie Award for 2020 is now open for nominations. Here's your chance to finger (geddit?) your favourite Luvvie. Never mind the Oscars, the Golden Globes or the BAFTAs because this is the only one that is frighteningly honest.
And the nominations so far are :
Emma Thomson – For flying first class from Los Angeles and back again so she could address an Extinction Rebellion meeting on the evils of flying
Rose McGowan – For tweeting an apology to Iran for killing their terrorist general and accusing The Donald of overseeing a totalitarian dictatorship. And for being American obviously.
Idris Elba – For pledging to return to his homeland of Sierra Leone despite not being born there and never having visited it
Patrick Stewart – For pontificating on the evils of Brexit and telling us what to do about it despite living full time in the USA
Pheobe Waller-Bridge – For being an insufferable arsehole banging on about how hard everything has been for her before she won multiple awards and landed a $20million deal with Amazon.
J K Rowling – For her lectures on Brexit, her unswerving belief in Corbynism, her campaigning for an Independent Scotland and demanding that 16 publishers around the world print her books using "eco-friendly" papers.
In the true spirit of diversity and equality, we will be having a single award regardless of gender.
Further nominations will be welcomed. Please post the name of your Luvvie and the reason for nomination in the above format. If they are considered worthy and if we can be arsed, we'll add them to the poll.