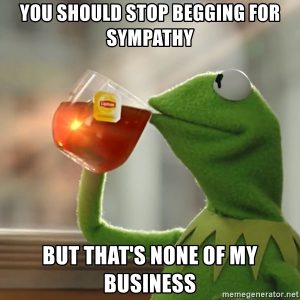 There's a phrase going round at the moment, its "soft bigotry of low expectations". It means identifying someone as a part of a disadvantaged group, and compensating for that disadvantage by treating them differently.
Its like what we used to call the "sympathy vote" and it's looked down upon for good reason. It doesn't help.
Now I have just seen a clip of the Britains Got Talent winner crowned tonight, Lost Voice Guy. To call it cringeworthy would be the understatement of the year. It's a disabled guy with no voice using a computer to tell jokes, shit jokes that aren't very funny. But you wouldn't know it looking at the reactions of Ant, Dec, Simon Coward and the other presenters. I almost couldn't believe my eyes as material not good enough for most local comedy clubs was fawned and guffawed over as if it were one of the funniest things that had been uttered this decade. You could literally tell that they were putting it on. I tell you, if there is a god he is sick in the fucking head!
So this guy won, simply because he is disabled. Personally, I think disabled people should be given the same moral latitude as the able bodied for the most part, and I have done so with those that I have known in my life. If they are nasty or attention seeking, I don't like them. If they are funny or interesting, I do. This guy seems like a lot of comedians, probably lonely with the need for attention, with a bit of a spark. But he wasn't very funny, definitely below average. But he is disabled, so barely amusing suddenly becomes bowel-tearingly hilarious.
How does the sympathy vote help him? How does it help other disadvangaged groups? It doesn't, it helps those giving the sympathy, who ideas of doing something good and emotional self-indulgence are obviously confused.
What I saw tonight was painful to watch. To see grown up adult famous people actively and obviously pretend to laugh at something because they thought they ought to is nausiating. But he won. This happened several times and people voted with phones and stuff. This is how far this sympathetic indulgence has gone, to the point of painfully obvious public self-deception, of millions of people.
Where the fuck will it end?
Nominated by Cunting Rank Wags