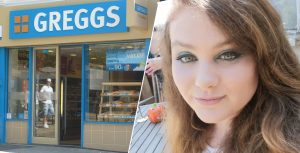 This is the snivelling, whiny little cow that fell out with Greggs and lambasted them on Twatbook because one of the staff members had the audacity to talk to her! The horrible cunt suggested to her that she had become a regular – what a disgusting and inappropriate thing to say! Naturally, such abuse triggered her anxiety into overdrive to the point where she may never be able to go to Greggs again.
https://www.dailymail.co.uk/news/article-7690413/Woman-21-claims-mocked-Greggs-employee.html
Apparently, she fears 'public interaction' – the poor soul! Yet another product of modern Britain and one of the growing number of pathetic snowflakes who demand support for their mental issues. Of course, she doesn't seem to mind her selfies being splashed all over a national newspaper, the cunt! Let's hope that if she plucks up the courage to buy another pasty, another equally horrible member of staff garnishes it with a little something extra.
If limp-dick, dummy suckling wankers like this are Britain's future, then God help us all.
Nominated by Captain Cuntman