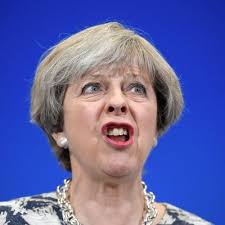 A valedictory cunting for Mavis May.
Her term as Home Sec was a fuck-up it turns out.
She took over EU negotiations using Remoaner aides and without planning for a No-Deal fallback from day one. The only thing the EU fears.
She called a general election where it was deemed that her personality would win the day. Unfortunately, she doesn't have one.
She somehow managed to unite Remoaners and Brexiteers against her deal. Some fucking feat.
She didn't sack Chris Grayling, surely the most incompetent cunt ever to hold public office. Also some fucking feat on Grayling's behalf.
And she clung on and on and on until even her fucking soppy cunt of a husband lost faith.
Farewell my Lovely.
Nominated by Cuntstable Cuntbubble