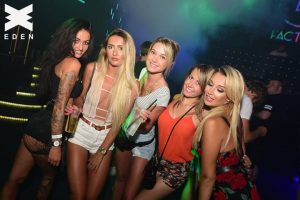 An up their own arse cunting for the supposed 'capital' of clubbing and the pretentious arseholes who infest this overrated and glorified Spanish Blackpool.
Where to begin? The cunts who dance on the platforms in the clubs who don't just dance, they do a special dance which involves a lot of thrusting their arms back and forth with a 'look at me' expression on their fizzogs.
The prices. €15 for a bottle of tap water. €50 just to get into the fucking place. Once in the place it's then the competition of who can look like the worlds biggest cunt whilst actually thinking they look 'cool'.
The music. Let's be honest, 30 minutes of listening to it and it really starts to get right on my fucking tits. The resident 'DJ' on £30k a night. Eh????
The supposed best sunset in the world at the bar (I've forgotten its name) where it's €5 just to take the top of a bottle of pop. Let's be right, you could go to fucking Benidorm and get the same sunset.
As you've gathered, the place just fucks me off to my core. A more cliquey and snobby place in the World you won't find. "Hast any Bisto?"…. "Fuck off you English cunt".
Nominated by: Bob Frapples