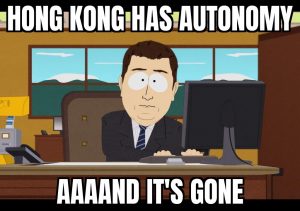 Aaand….Back to the politics. The Chinese Communist Party is most definitely in need of cunting, and I am officially nominating them for the great accolade of 'Cunt of the Year'. Not content with unleashing a virus (which may are may not have been man made) on to the entire world that has already killed hundreds of thousands of innocent of people, they are entering a phase where they are preparing to take full control previously autonomous Hong Kong. It's a coming people. It's a coming. I response to this Boris has announced the UK is considering granting up to 3 million Hong Kong citizens refugee states and allowing to come here. Personally, I support this, but I know a lot of you wont. Of course, this means kicking out 3 million undesirables, illegal immigrants, criminals, terrorists etc. But still, I would rather have 3 million Hong Kong refugees come here. Why? Because unlike the illegals, they will come here and work for a living, study and for the most part, not engage in violent behaviour against our police or the public in general. Most of them won't make constant accusations and demands.
In case anyone as has forgot, today (4th June) marks the 31st anniversary of the Tiannenman square massacre. Those of us of certain age remember well the images of those Chinese tanks driving through the square, until three of them are stopped by a lone protester with his shopping bags, who bravely stood in front of the first tank, and refused to move. That image was sent all around the world, and helped to force the CCP to take a step back.
It worked. And for the past couple of decades things started to improve. Over the past few years though, the CCP have been slowly taking steps to claw back control and introduce even more Draconian laws and rule. Even their dear leader has gone all North Korea and declared himself 'leader for life'. They are systematically erasing the gains that were made in 89. What's more worrying is that they seeking to withdraw the autonomy that China granted to Hong Kong. But what to do? The most sensible thing would be economic sanctions, hit them where it hurts. China has a reckoning coming. Done sensibly, they could easily get China to roll over.
Nominated by Quick Draw McGraw