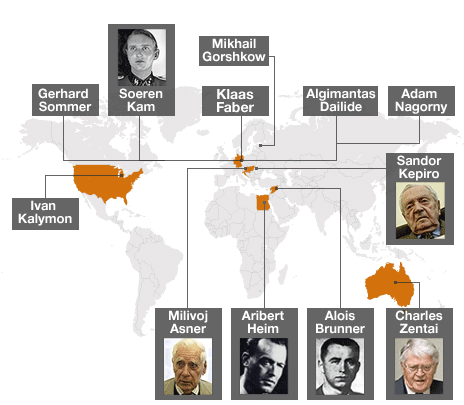 Nazi Twilight. No not a heavy metal band cunts. What in the scum finding trade is known as 'the last chance'. The remaining unhung of the Fuhrer's finest are edging screaming yet ever closer to the edge of the old mortal coil. The people at the Simon Wiesenthal centre are offering twenty grand a pop for information leading to etc etc. Hang 'em before they die. Money for old rope I hear you say.
Opportunity for cunters to do a public service (probably our first and last) and trouser a nice little earner from the smockos. Given the degenerates, psychos, and generally unhinged that frequent this august blog, I wager that someone out there is in a position to finger an old kraut.
See below the list from the Simon Wiesenthal Centre of current extant Nazis (2013).
Alois Brunner (age 101 if still alive, last seen in 2001, in Syria. Cataloged in 2013 as Priority Target)
Aribert Heim (age 100 if still alive, last seen in 1992 in Egypt) note: Heim, known as Doctor Death for atrocities at Mauthausen Camp, Austria, is a particular sweetheart and my personal favourite
Gerhard Sommer (age 92. Last known location: Germany)
Vladimir Katriuk (age 92. Last known location: Canada)
Hans Lipschis (age 94. Last known news: Found and arrested in Germany, 2013.)
Ivan Kalymon (age 93. Found in United States, lost US citizenship, Ordered deported in 2011, but remains in the United States pending an appeal)
Søren Kam (age 92. Last known location: Germany)
Algimantas Dailidė (age 93. Last known news: Deported from USA to Germany in 2004. Sentenced to five years imprisonment, but was diagnosed "medically unfit to be punished".)
Mikhail Gorshkow (age 91. Last known location: Estonia) – case dismissed due to insufficient evidence in October 2011.
Theodor Szehinskyj (age 90. Last known location: United States)
Helmut Oberlander (age 90. Last known location: Canada)
More details, photos etc can be found here, here ,here and here.