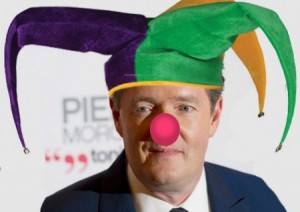 I think it's also worth taking a moment to gloat at Piers Morgan's recent sacking from the US talk show he hosted. Morgan's screen presence and interview technique makes Jeremy Kyle look like David Frost. The former tabloid cunt has been boasting for months of his lavish lifestyle, trousering small fortunes for brown-nosing the rich and famous. And now it's all come crashing down.
Morgan Le Cunt has been trying to spin his departure as being related to his stance on US gun laws, but this is fooling no one. The Americans might be race of obese fucktards, but even they can recognise a smug British Uber Cunt when they see one and they've sent him packing pretty sharpish. So Morgan has now received TWO high profile sackings: one from the Daily Mirror (for faking front page photos) and another from CNN (for being a smug and hated cunt).
Let's hope this odious, talentless, unemployed and unemployable abortion makes it a hat trick by topping the Dead Pool sometime soon.
Nominated by: Fred West