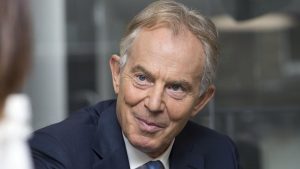 Yes yet again the Motherfucker Supreme has delivered another sermon on the mount.
Interesting that he has had his chat-ette the day elderly cunt Vince Cable has announced his *movement for moderates* (and also suggested that he will not be staying for the long haul as leader of the LibDumbs).
Notice Blair is using his most *pleading* i.e. pansified voice. Could it possibly be that the grasping, opportunistic wankstain has now tacitly accepted that Brexit will happen and instead of replacing piss-artist Juncker, which would be impossible for him after that, Blair sees his second coming as leader of the new *moderate* party? (the new SDP and we all remember what happened to that).
I am glad I am not a moderate if only so I don't have to entertain the idea of Blair and Mangledbum talking down at me.
Why don't these old has beens (especially Blair) just fuck off with their ill-gotten gains and shut the fuck up.
Nominated by W.C.Boggs