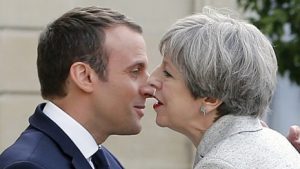 "Oooooh but cut your fingernails next time Froggy"
Have sat through me share orf arrogant frog pygmy presidents – in recent times the likes orf Mitterand, Sarkozy, Holland and now Macron. Determined to take La Belle France back to its rightful place orn the world stage the cunt says. Restore the home orf boulevard dog shite and garlic to some Louis Quinze Sun King Empire orf prestige and majesty. The natural leader orf Europe and America's oldest ally (if you count its Liberte Egalite Fraternite position as premiere and longest lasting supplier orf slaves to the rebellious colonists), the cunt dreams orf supplanting Blighty's coveted place up the yanks arse. Hence his tossing little performance over Syria and his arse licking orf Trump.
Indeed cannot contain himself wanking over his supposed restraining advice to Trump and his diplomatic efforts re Putin. As the headline in The Sun (Sun King geddit) might read "It's Macron what dunnit". Good Luck Froggy is what Yours Ttuly says. Bugger lot orf good the "Special Relationship" has done Blighty. Obliged us to take the arse end position in every swivel eyed panto horse fuck up the yanks have embarked upon. There to be the scapegoat for Uncle Sam's torturing and murdering orf prisoners in Iraq plus friendly fire various ect ect. Blame it orn the limeys. It's what we are there for. Extra delicious that in all these farragos we have the pleasure orf paying for our own ticket as well. Blighty is such an easy fuck at least buy us dinner, a candle lit McDonalds will do.
Now May is behaving like an old whore that has been given the elbow. Indeed she is an old whore ect ect. Broken with Europe (hopefully) and now Trump has asked for his key back and given it to Macron. Take the advice orf Comrade Putin. Time to work the streets and Fuck Orfski.
As ever cannot be arsed to supply overmuch detail so leave that in the over tossed hands orf Pedantic Cunt and his famous sticky keyboard.
Nominated by. Sir Limply Stoke