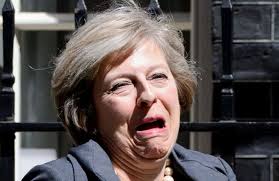 Theresa May is overdue another cunting.
I am listening to World at One. Boris's attack on her proposal is of course a lead item' but it strikes me that May's flagship 'Chequers Agreement' has no support from anyone.
Remainers don't like it.
Leavers don't like it.
That cunt Barnier doesn't like it.
So why the fuck is this stupid, inadequate woman still clinging to it?
My only conclusion is that she is a cunt. I am open to argument.
Nominated by Cuntstable Cuntbubble