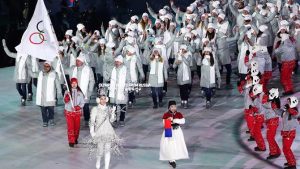 What a fucking farce the supposed ban on Russia competing in the winter Olympics has been!
The IOC ban Russia from the competition on the grounds of systematic state doping, but it's alright for the athletes to take part anyway as long as they don't wave the Russian flag or play the Russian anthem. Result? The athletes turn up and win loads of medals.
Then the cunts get all upset because the IOC refuse to let them march under a Russian flag at the closing ceremony. After all, only two more of the 'non-Russians' taking part failed dope tests. So that's alright then?
Listen you cunts! A ban is a ban – not a pretend ban – a fucking ban.
This was not a ban. This was a farce. A fudge. A work around.
Fucking spineless cunts at the IOC caving in to Putin.
IOC, the world is laughing at you. No wonder your logo has been added to the Wall of Cunt1
Nominated by Dioclese