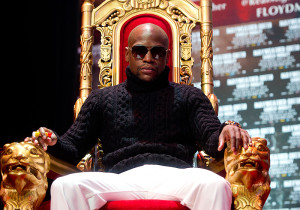 Floyd Mayweather Junior is a spineless cunt who is allowed to carefully pick his opponents.
He avoided Manny Pacquiao like the plague while the Filipino was at his peak, only agreeing to face him after he saw the deterioration in his opponent's performances.
Amir khan isn't a great fighter but the speed he demonstrated against Devon Alexander would give Mayweather problems, that's why he won't get a shot. The legends of boxing were never afraid to fight anyone, they sought the opportunity to prove they were the best. Mayweather's legacy will always be tarnished by his fear of risking his unbeaten record.
Nominated by: Allan

Floyd Mayweather is a spineless septic jungle bunny cunt
Nominated by: Thomas the Think Tank Engine