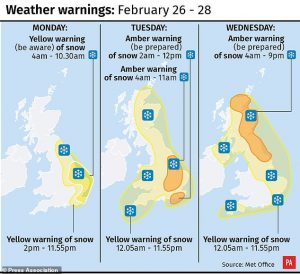 How ironic. There's a bit of snow about so the snowflakes go into meltdown!
100 years ago soldiers endured four months in the freezing cold during the battle of the Somme. Today the modern generation is taking time off work because there's a half inch of melting slush on the pavement.
Trains have been cancelled because it might snow overnight and they'd be in the wrong place or might – might, mind you – get stuck in the snow and the passengers freeze to death before they get rescued.
Snowflake cunts up and down the country are panic buying milk and bread in preparation for the ensuing armageddon.
And the piece de resistance? A headmaster is banning his pupils from TOUCHING snow and told them that snowball fights in the playground will result in them being excluded! I can see it now – the new Injury Lawyers4U ad : poor little Johnny got a snowflake in his eye so we need to sue the local education authority. Ring 0800-GREEDYCUNT now. No win no fee. You know it makes sense.
Snowflakes breeding snowflakes getting worked up over a few snowflakes.
Here's a message for you : It's winter and there's some snow about. Like it is every year in the north and Scotland. It's not new. It's not even unusual. It's a bit of fucking snow!!! Get over it!
Cunts…
Nominated by Dioclese