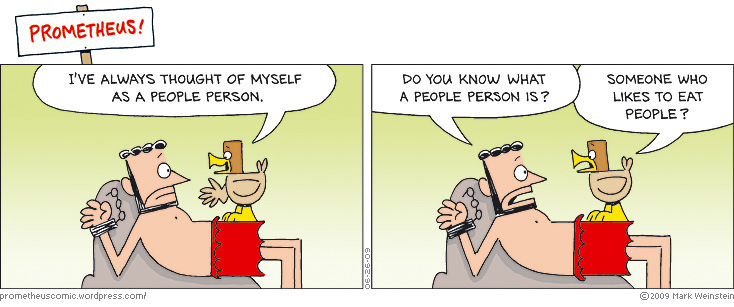 I'd like to formally cunt "People Persons". You know the type. "Hey, I consider myself a real PEOPLE person!" Yeah. Right.
These awful cunts are usually found attempting to edge their way up the corporate/ religious/ charidee/ political ladder whilst genuinely believing themselves to be inspirational and motivating types who brighten the lives of lesser individuals. Often seen herding their reluctant office underlings into the paintball area of your local wood/swamp/marsh for some "Team Building" (Eurgh!!) or leading a bunch of naïve inexperienced adventurer types into the mountains for a (hopefully) doomed sleepover at Camp Hypothermia. And he'll have a secondhand guitar which will be twanged tunelessly around the campfire while he urges his freezing companions to sing along about their "ging gang fucking goolies" or suchlike.
Invariably obsessed with slogans such as "wake up and smell the coffee", "there's no "I" in "Team", "get with the program" and the perennial 80's cunt catchphrase "go for it!" (AAAAAAGGGHHHHH!!!) this turd in vaguely human form considers himself/herself a charismatic natural leader of men when actually they are a grating, obnoxious pain in everyone around them's arse. Tragically they are also often utterly well intentioned into the bargain with the result that their kind hearted colleagues and friends (if they've got any) can't bring themselves to bring them down to earth by informing them that they actually possess less charisma than a half empty tube of Anusol abandoned in a bedsit bathroom cabinet. In Wales.
Nominated by: Mr Bastard
…and here's a little musical take on the problem as well..