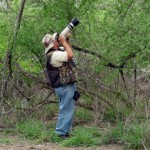 Why do birders have cameras with such massive lenses? Is because they have small dicks? Probably…
Just spent two weeks in the Russian Far East with a group containing several twitchers. Picture it: There we are floating in a little rubber boat of the coast of Kamchatka watching brown bears on the shoreline. Cameras are clicking away furiously. Suddenly the bloke at the front of the boat swings his 500mm penis substitute around nearly knocking me out of the boat. Fuck the bears! He's spotted a seagull and simply has to have as photo to prove it.
A few days later we are floating around in a little rubber boat with a driver who's a bird expert. We are admiring sea lions. We're in the wrong boat. The driver decides to hair off downstream to find some birds. Do we see any? Not really. There's apparently a reed warbler in the bushes in winter plumage – but you can't quite see it from here!!!
Don't get me wrong. I like birds. But some of these guys are just cunts!
Nominated by: Dioclese