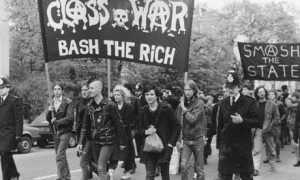 Class War are about due for a cunting. That bunch of violent, soap dodging, bigoted, ignorant, left wing fuckwits. They've threatened to riot if Zac Goldsmith wins the election to become London Mayor. The very name of this group of democracy hating cock wipes is laughable. Because the vast majority of their members are middle class arseholes, living off trusts provided by mummy and daddy.
In a democracy, even a flawed one like ours, people have the right to vote for any candidate they wish. You have the right to vote for one candidate, or another, depending on their policies, etcetera. You have the right to refrain from voting should none of the candidates be what you want. Sometimes, the person you voted for wins, sometimes they don't. That's democracy, and most of us accept that. What you DO NOT have, is the right to spit out your dummy and take to the streets, damaging or destroying other peoples property, simply because the majority of people voted for the candidate that you hate.
That's what Class War are proposing if Sadiq Khan doesn't win. One of their leaders, Jon Rees, is a real piece of shit. He chaired the press conference, at which CAGE, that bunch of muslim filth who love terrorists, praised the cocksucker known as jihadi john. Rees is the dictionary definition of the word, 'traitor'. This cunt literally hates EVERYTHING British. So I can also assume he hates himself.
And like all knuckle dragging, far left fuckwits, Rees sees it as his holy mission to condescendingly fight for the working class. Even if their actions cause harm to the working class. It never fails to amaze me that these clowns constantly drone on about fighting fascism, whilst using the very same tactics that the Fascists themselves employed. They are far, far too stupid to realise that THEY are they enemy of the Working Class.
Nominated by: Quick Draw McGraw