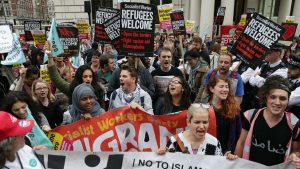 Seeing hordes of these socialist shitkickers on the ITV News last night, protesting about the Grenfell tragedy with their political slogans on their banners 'end government austerity'.
I tell you what, you soapdodging, beany hat wearing, rag wearing, blue haired, arsehole acrobats, why don't you get a job instead of trying to be activists? They interviewed one cunt on there who was clearly not the full turnip; he described himself as an 'activist' and ranted on about how Kensington Council had failed everyone. Then he promptly broke down in tears.
Years ago, loops like this would have been tranquillised and would have been resident in a nice padded room. Most of these nut bars are attracted to pied piper Corbyn's tune for promises of more money, courtesy of taxes on the 'rich'.
If cunts like this got off their arses and concentrated on making themselves a living instead of their ambition stretching to one of self appointed community mouthpiece, then perhaps this country might see an change in fortune.
Nominated by Paul Maskinback