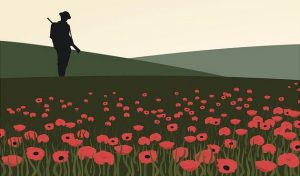 I hereby cunt Poppy Politically Correct Fascists.
Led by the BBC Cunts, they've all been at it for weeks like little Hitler robots, all wearing their poppies identically, and persuading their "guests" to do the same. They are not much better at Sky and ITV. Sitting there with their smug faces – "aren't we doing the right thing!!"
These cunts have lost the plot, and like many other cunters here, I do not wear my poppy until the days that really matter, albeit I pay when I pass a tin. I refuse to comply for the sake of it, when we should wear it to remember our War Dead. When I were a lad, we wore it on the day to specifically remember, not to show how good we were. These PC fascist cunts are not sincere.
I will wear my Poppy with pride on Armistice Day, and Remembrance Sunday when I march past the Cenotaph.
I shall wear it in honour of my Grandfather, who was wounded on the Somme 100 years ago, my Father (N Africa, France and Germany 75 years ago) and their fallen comrades, as well as mine from wars various.
What the fuck did we all fight for?
Nominated by: Big Al