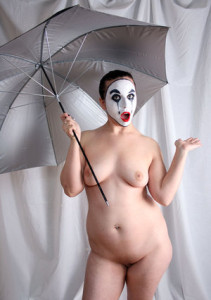 Had occasion to spend a couple orf days in Berlin on business. First to admit I cannot stand the krauts but do like to get slaughtered on a spot orf weiss bier. A simple enough pleasure at my age you may think but not a bit orf it. As soon as the fraulein deposited me tankard orf Goering's finest I am surrounded by a commando orf mime cunts. White flat caps, white gloves, white face, the whole fucking schmeer.
Bastard kraut cunt shoves his fissog into mine and gives me the old garlic sausage breath so I give him the old double Churchill straight in the mush "Fuck orf cunt". Problem is, and this will mark your card, the krauts think this kind orf caper is "funnee". Some fat bint with black buttons on her tits gives me a leaflet. Apparently the whole orf the EU is hosting a festival orf mime, universal language bollocks and crap.
Cunters, stay out orf Europe for your own sanity until these mime cunts crawl up their own arseholes and vanish in a puff orf fart.
Nominated by: Sir Limply Stoke