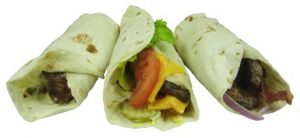 I would like to nominate McDonald's new "Super Wrap" advert for a cunting.
Feckless yoof (a yank – but locale doesn't really matter) stumbles to the counter to order his "wrap" from a (faux) edgy bit of skirt and the next thing you're whooshed of to the reality of this cunt getting off with said "edgy" burger-flipper at bowling, cinema, etc.
No mate, no. She's a burger flipping skank and the reason she's tolerating your existence is because YOU'RE PAYING you cunt!
As soon as you leave the bowling alley it's no feel or touchy and as soon as your car leaves her driveway you just know Alfonse will be turning up to a) slip her an 11″ length, b) pick up what she's grifted off said gullible cunts.
Gullible cunts like YOU!
O'course the ad portrays it as being wholly positive. I see it as slave labour dressed up as a life choice.
Cunt off McDonald's you cunt!
Nominated by Rebel without a Cunt!