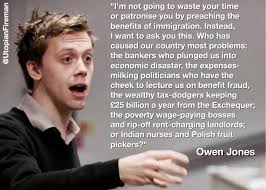 This from our dear dear friend, Mr Owen Jones;
"LBC depends on guests to function. Until they sack Katie Hopkins we should all boycott all interview requests. Enough is enough."
Enough is enough? Enough of what is enough, Owen? Enough freedom of speech? Enough of the truth? Pity you don't think enough dead British children is enough you sanctimonious cunt.
Nominated by Skidmark Eggfart
Owen Jones is an uppity, only gay in the village prick.
He deserves to have a prize winning marrow inserted in his rectal cavity, but he would probably enjoy it.
Nominated by Paul Maskinback