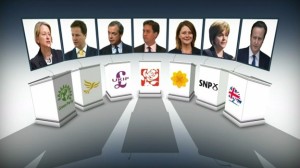 The leaders debate: Seven king sized cunts… The main four, we know and hate, plus three other cunts… And who the fuck is that Aussie Dick Van Dyke who runs The Green Party?!
On the other side, Question Time… Peter Hitchens is also a colossal cunt…..
The SNP are also cunts… Only months ago the bastards wanted out of the UK… Now they have a say in how Britain is governed?! I have only three things to say: Culloden, Peru 1978 and fuck off!
Nominated by: Norman