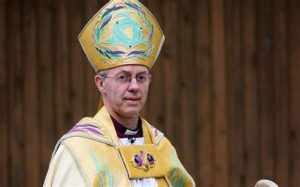 Justin Welby
Urgent repeat cunting required for scumbag Justin Welby, Cuntuar.
He has refused to apologise for smearing the late George Bell, Bishop of Chichester, as a paedophile.
It seems that there was never any serious evidence to back up allegations made almost 40 years after Bell's death. And his 94-year old niece is still having to deal with Welby's cuntitude.
The Christian community have, I feel, rightly accused Welby-Cuntuar as lacking in any Christian compassion.
I must be honest, and declare my own interests. I have always thought Welby to be an obnoxious, smug runt; out of the same warped mould as Miranda B. Liar. As someone pointed out, Bishop Bell's war records were exemplary, helping many Jewish and child refugees; perhaps today's tissue-paper sky-pilots are just about intelligent enough to realise that they are intellectual pygmies by comparison with Bell.
Nominated by HBelindaHubbard