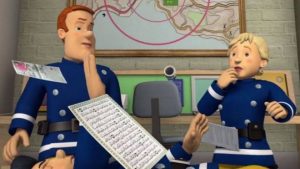 An episode of Fireman Sam has been withdrawn after an "error" which led to a depiction of the Koran being shown.
A scene in the children's programme shows a fireman slipping on a pile of papers – and as they fly into the air a page from the Koran is "briefly depicted", production firm Mattel said.
The episode was first broadcast in October 2014 on Channel 5 but the error has only recently been spotted. Mattel apologised and said it did not believe it was done "maliciously".
I shit you not, this is taken from an actual article on the BBC. Questions must be asked :
Is fireman Sam being radicalised?
Was this a subliminal plant by the Prophet?
Is the fictional firestation in Rotherham?
If the Koran is so holy that no one can see it how do people fucking read it?
Is someone having a fucking laugh?
Cunts
Nominated by: Sixdog Vomit

It would appear even Fireman Sam can upset the smelly goat worriers. Apparently a page of their fantasy tale book got shown on the show, promoting outrage .
Shame the same 'outrage' doesn't happen when their fucking nutjob suicide mates decide to go out killing people. Funnily enough there's never a peep from the Muslim Council then.
Cunts
Nominated by: Mr Sausage