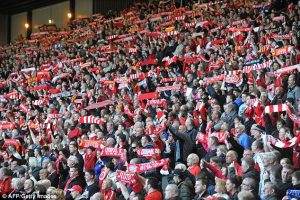 OMG! I am so fucking sick and tired of hearing about bloody Hillsborough.
Don't get me wrong. It was a needless tragedy that 96 fans went to a football match and lost their lives. I get it. We all get it. But for fuck's sake change the bloody record. It's now been ruled that the victims were killed unlawfully. OK, so how does that help exactly? Too many (unticketed) fans + some idiotic policing = 96 deaths. As others have said, there needed to be too many fans to begin with, so for the scouse cunts to claim everyone else is to blame except them strikes me as a bit thick. Oh wait, they're from Scouserpool. Bottom line, it was a very unfortunate event that nobody wanted or set out to do.
On the other hand, the murdering scum scouse fans who deliberately killed 39 opposition supporters in a fucking riot in the Heysel stadium in 1985 is all but glossed over. That slaughter was deliberate, perpetrated by the same group of scum supporters we're all supposed to feel sorry for over Hillsborough. Is it just me?
Scouserpool FC is scum. Their fans are scum. The fucking 5 year ban for English clubs resulting from the murderous scouse rioting kept my team out of the UEFA Cup 3 fucking times. Bastards! Scouserpool FC should have been banned from European competition forever for crimes against humanity. THAT would have been justice for the 39.
The endless media favouritism directed at that club makes me puke too. Everytime they're on the box, we're forced to witness several minutes of their pathetic anthem before kick off. No other club gets that. Everything about that crap city is shite. Wasn't it 2008 when Scouserpool was voted European Capital of Culture or some such nonsense? What a laugh. The only way that rancid place is a capital of culture is if all the supermarkets ordered extra quantities of yogurt that year.
Nominated by: Imitation Yank

Right… Those Scouse cunts….
So they have finally got their verdict (the one they wanted), but will there be closure?
Will there fuck… Now the compo claims start… Didn't see that coming… This will never, ever end… They will make sure of that… It's like a family business…
But what I want to know is why the arselicking, Scouseloving papers and TV fail to point out certain facts about these not so loveable vermin…
There's plenty of evidence that Liverpool have consistently sought to capitalise on what Hillsborough brought them (just enough sympathy to wash away their Heysel disgrace for instance, allowing them their stunning attempt to present its own twentieth anniversary in 2005 as a joint Liverpool-Juventus commemoration – grief hijacking extraordinaire!)…
There was that Scouse cunt, John Aldridge at the replayed semi-final at Old Trafford a mere three weeks after Hillsborough… His disgraceful taunting of Forest's Brian Laws following the latter's own goal was unbecoming in any circumstances and fully deserved Tony Adams' retribution – "That's for Brian Laws, you cunt" – three weeks later when Arsenal stole the championship at Anfield…
Of course that came after the all-Merseyside cup final (just five weeks after Hillsborough) which, as though nothing had happened, was once again marked by images of numerous scousers scaling the stadium walls to gain entry and, with the fences removed, pitch invasions that they'd been put up to prevent…. Meanwhile, stewards on duty that day were called to a disturbance at one entrance ten minutes into the game where they were met by the sight of hordes of scousers attempting to storm their way in… Forget the earlier ridiculous calls for the season to be abandoned and Liverpool awarded the FA Cup in memoriam – some of the club's fans had in mind a far more fitting way to honour the disaster's victims…. Which begs the question: if the police did open the gate at the Leppings Lane End, why did they? Could it be that there were hordes of baying, ticketless scousers causing so much mayhem that the coppers were forced to open it? It is no secret that scousers were jumping the turnstiles at that end during that game,….
And of course there were the ever-present 'Liverpool FC celebrate Munich 1958' banners and the 'Who's that dying on the runway?' song that these cunts sang for decades… Not forgetting, of course, the massacre of 39 Juventus supporters at Heysel… Don't see too much of an outcry from Scousers about 'Justice For The 39', do we?
What I want to know is why did it take the deaths of 96 of their own for these scum to actually grow a conscience? Cunts…
Nominated by: Norman