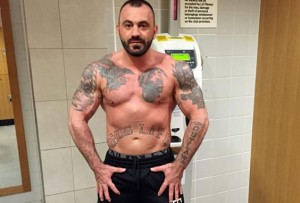 George Claudiu Albu is a massive, massive cunt.
The gutless coward piece of shit decided to use the backstreets of Notting hill as his own private racetrack in about £25k worth of second hand Bentley when he hit a stationary council gardener's van that had broken down in the road.
The poor fucker that was driving the van happened to be responsibly ushering traffic around the stricken motor when the Romanian faggotwing wannabe gangster rammed into the van, crushing the gardener between the two cars.
So, what did big gay George do?
Did he call an ambulance? Nope.
Did he try and administer first aid? Nope.
Did he do a runner with his shirtless boyfriend, leaving the engine running, the car leaking fluids and the stereo blaring gangsta (c)rap while his unfortunate victim lay dying in the road. Oh yes.
What a grade 'A' cunt of monumental proportions.
But then any overly aggressive, thick as pigshit, roid-rage bodybuilder cunt with 'Thug life' tattooed accross its belly and 'Outlaw' tattooed on its arm will most likely be the less than proud owner of a non- functioning microcock and would probably have done the same.
Personally I hope he gets life inside and spends it catching AIDS as the spunk sponge to a gay muslim child rapist gang….
And then gets deported back to Romania to have the whole life sentence / spunk sponge arrangement repeated.
He deserves nothing more, nothing less.
Nominated by: Odins Balls