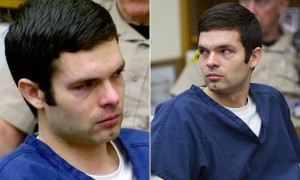 Kevin Bollaert needs a special cunting.
Bollaert cried in Court this week when he was jailed for eighteen years.
The cunt had been operating a revenge porn website which encouraged jilted lovers and hackers to post nude photos of people without their consent, along with personal information including contact details. More than 10,000 images, mainly of women, were posted between December 2012 and September 2013. Anyone who contacted the website seeking to have their explicit images taken down was then directed to another of Bollaert's websites, changemyreputation.com, and charged between $250 to $350 to remove the content. The compromising photos cost many victims their jobs and led to one attempted suicide. Bollaert raked in approx $900 a month in website ad revenue and another $30,000 from victims. Bollaert was convicted of six counts of extortion and twenty-one counts of identity theft.
Frankly I think eighteen years is getting off lightly for this abhorrent cunt – one can only hope that a 25 stone drug dealer in a neighbouring cell fancies a fresh bitch…
Nominated by: Fred West