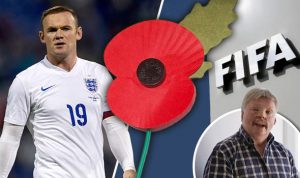 I need to cunt FIFA. They have launched disciplinary proceedings against Wales, not for being Welsh which would be fair enough, but because supporters wore poppies during the World Cup qualifier against Serbia.
Northern Ireland face charges over "acts of remembrance" . England and Scotland also face proceedings because they wore armbands with a poppy on it.
Apparently the poppy is now a political symbol. It was when it was inaugurated by Earl Haig in 1928 but not nowadays. What an utter bunch of cunts FIFA are.
So much for modernising etc post Blatter. More of the same bollocks from these morons.
I don't like international football anyway but the sooner we drop those cunts the better. They will be crawling all,up Putins arse in 2 years time but he is ok isn't he. Wear a poppy and you get fucked.
Utter, utter cunts.
Nominated by: Johnson