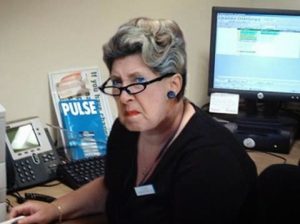 Can I cunt Doctors Receptionists
Particularly one cunt I had the misfortune of dealing with today
I've been away on business all week, so the wife dropped off repeat prescription for me, Tuesday. It's now Friday.
Just been to pick it up. After waiting in a queue for 30 minutes or so, since most of the third world seems to have come down with a cold today, I met the ugly bitch.
Me "I've come to collect my prescription"
Bitch "Your blood tests are overdue, we are going to withhold the prescription"
Me " I have no medication left, I left it a bit late, but I have been away"
Bitch "We are entitled to withhold medication if you have not had your blood tests"
Me "What I have does not tend to go away. Can I have my prescription please?"
Bitch "It's not been signed because your blood tests are overdue. Shall I book you in ?!
Me "Now listen up for fucking cunt. Im diabetic, if I don't have the fucking medication, I fucking die. Can you grasp that ?"
Bitch "Shall I book you in for some blood tests"
Me "No I want my prescription please."
Bitch "You cant have the prescription till I have booked you in"
Me "I want my prescription, If I don't have it I die. You could try taking some blood from my cold, dead corpse, but I'm unsure what use they would be to me. In the meantime prehaps you could see if you could get a prescription to cure stupid"
So still no prescription. It's friday.
I'm just writing a massive letter of complaint and I am going to go back up there at 2 to see whoever is in charge.
Cunts
Nominated by Andy C