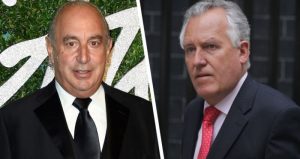 The Philip Green gagging nonsense and the Establishment reaction to naming the cunt.
They are lining up, cunts one and all:
Overturns rule of law blah blah
Abuse of privilege blah blah
Hain 'arrogant' blah blah (compared to Green ?)
Political Witch Hunt blah blah.
What really worries these cunts is the fact that money and privilege can be overturned in parliament from time to time. This wont do don'cha know. If rich people cant use money to fuck over the plebs and enrich the (London) judiciary where will it all end?
Hain has been a cunt for as long as I can remember but just this once he is on the side of us nonentities.
Nominated by Cuntstable Cuntbubble