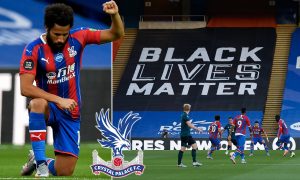 A brief and succinct cunting for Crystal Palace Football Club.
After nearly 60yrs of support I've finally had enough. Up and down the league tables, the Eagles are better described as the Yo-yos.
But that's not what it's about. The final straw came when, like the fucking SHEEP they are, they again "took the knee" to the fucking (only)BLM fascists and and Saint George the patron saint of robbing pregnant women.
The football play is shit, the woke crap really gets my goat, the fake crowd noise and worst of all, the gradual elimination of Caucasians from public view, in other words racial apartheid.
The FA and everything that buys into this shit can go fuck themselves with a dried barrel cactus. I only hope that we, of all shades, in our millions, vote with our wallets and drive the woke cunts to bankruptcy and pauperdom.
As for the "Eagles", more like the pussies, another word for CUNTS.
Nominated by: Sheikh Anvakh