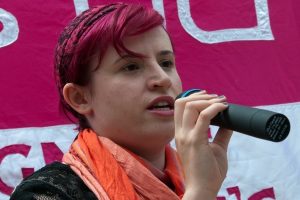 Laurie Penny is a rare specimen of a cunt in that she manages to appear more of a retard who has no grasp on reality every day.It isn`t just that she is an annoying virtue signaling leftist ideologue who shamelessly pushes the ultra-progressive agenda but she is just void of any basic social awareness.Here was a tweet from her a few hours ago in relation to Trump`s speech:
"This is a terrifying speech. The biggest cheer of all came when Trump promised to wipe out 'Islamic' terrorism. #TrumpInauguration"
The most shocking thing isn`t that the well-known cunt actually said that but that she wondered why people were asking her if she was in favor of terrorists.Her mother must have thrown her head against a wall as a baby.
Nominated by Shaun