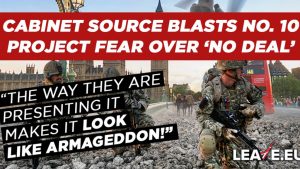 Another cunting for the continuing saga of Project Fear.
This time, supermarket bosses are warning of price increases and 'civil unrest' resulting from no-deal.
Civil unrest. Makes you think doesn't it? Of course supermarkets have no vested interest and their overpaid bosses are experts on civil disorder.
And again queues at the port of Dover are threatened. They use Dover as an example because I suppose people in the Home Counties and London know where it is. They wont know where Immingham is, which takes 4 times the commercial traffic. Irrelevant I suppose because it is north of Islington.
Surprisingly government and Civil Service sources agree with these fears.
So, once again. Be afraid. Be very afraid.
Nominated by Cuntstable Cuntbubble