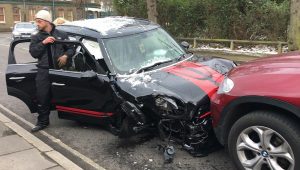 I would hereby like to nominate Ant Mcpartlin for a cunting of the highest order.
This over sized fore-headed cunt wrench, with the talent of a mummified slug, has once again demonstrated why abortion should be legal.
Now the cunt has been involved in a RTA causing injury to others, more than likely when his fucking fore head collided with passing traffic.
He is to TV what the bomb of Hiroshima was to landscape fucking gardening, but that was a one off event, whereas this cunt is akin to genital warts and keeps coming back.
I have never posted before, but enjoyed the many cuntings, given with great accuracy by others.
But I felt I had to nominate as this prick has reached a 10 on my cunt'ometer.
Thank you my fellow cunters
Nominated by Dry Itchy Cunt
I am struggling to understand how this piece of donkey smegma has managed to dine out on such a paucity of talent. This cunt has miraculously managed to rise to the surface of TVs swamp of shite and become very rich and successful to boot.
I simply cannot stand this cunt and his atrophied sidekick. His alleged drink driving stunt has resulted in the injury of a three year old child. This places him at the Blair and Adonis mantle of cuntitude, in my book. A high price to pay for ridding this beloved turd from the nation's idiot lanterns, but one can only pray that the cunt receives a substantial custodial sentence. It will be a true travesty of justice if some soppy judge lets him off the hook with a fine and suspended sentence.
He will be a marked man in jail. Try presenting Saturday Night Takeaway when your arsehole is the size of a dinner plate. Cunt.

Nominated by Paul Maskinback