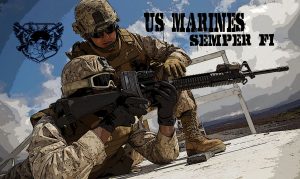 I wouldn't trust the US military to complete an operation even as simple as sticking a post in a fat bird.
Their special forces don't look that special to me.
Take that Bin Laden malarkey for starters. They spent years and billions looking for the cunt. Scouring the whole region, mountains, cave systems etc.
And where was the cunt all that time?…….at home.
Nominated by: J R Cuntley
Having dealt with the US military on multiple occasions over the years they leave a lot to be desired. The airforce seem to be reasonably acute, army and navy less so, and the Marines are as dumb as a bunch of blind, deaf, legless chimps. The vast majority of these fuckwhits chew tobacco and gob the slimy shit all over the shop, some even leaving it in cups, the dirty cunts.
I had the misfortune of hosting a group of USMC once and they had a similar amount of computing power as a bag of tangerines. Oxygen thieves to a man.
Nominated by: Thorax Cockslammer