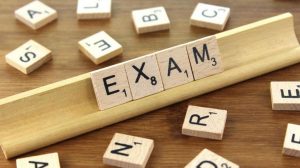 A 'would you like fries with that?'-level cunting for students and their cunt parents and even bigger cunt teachers who are blaming the nasty tories and exam board that they didnt get the grades their woke instructors predicted, with some 36% lower than predicted (despte more A and A* this year) and more than few being off by two grades.
Weirdly this external moderation system Labour are now pointing fingers at was agreed with by the big teaching unions as far back as April. This was to take into account work done in earlier terms and help weigh the grades ro a standard, set of criteria, rather than just give students wildly optimistic grades as done in bedwetting socialist Scotland where teachers were worried about the effect such standards might have on less privileged pupils.
Expect each pupil in Scotland to get a small trophy, a rosette, a pouch of Capri-Sun and a Cadbury's Creme Egg for turning up.
If the pupils in England and Wales arent happy they can take an exam in the Autumn and see which grade is higher then use that as their grade when applying to study Fashion and Media with Gender at East Anglia or Bangor.
Degree free with your tepid pint of Fosters at the union bar. Just dont skip Freshers Week.
Cunts.
Nominated by Cuntamus Prime