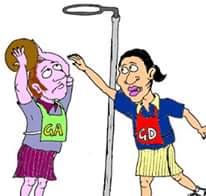 Netball.
A very quick non-political, non-religious, non-sexist, non-racist, non-Brexit interlude of a cunting for this pile of old pony.
Netball. More specifically the Beeb's sad and cynical attempt to 'big up' a playground game and represent it as a major sport, because they can't afford much else and there's a World Cup coming along.
It's shite (and I speak as an emeritus professor of know it all with a PhD from ISAC, never having watched a game but seeing the same news clip twice already). A bunch of giggly tarts handing a ball around before it gets to the tall one stood next to the net. Everyone stops. Tall girl puts the ball in the net. All the other girls hop about and cheer. Repeat. Repeat. Repeat.
Sports moment of the year 2018? Hardly.
Netball is no more interesting or relevant than many other 'keep the kids busy' pastimes – rounders, cross-country, hide and seek, British Bulldog – that should be illegal beyond the age of 16 (At which age, the boys need to be brushing up on their knife-fighting skills if they are to survive 'on the street' and the young ladies can move on to more interesting and useful endeavours; shagging, shopping, cooking, cleaning, nail technology and shagging some more.)
If you can't live without live prime time netball, get the girls in the office to stand in a line and pass a crumpled sheet of A4 from one end to the other, where the last girl puts it in the bin. Whoopy fucking doo.
At least with rounders nobody in the UK takes it seriously once they have discovered the joys of wanking. (Not so in the US, where the two pastimes seem mutually supportive and go on well into middle age. Baseball? Rounders for fat cunts, no more).
Netball Schmetball. Turn it off immediately and do not, for fuck's sake, encourage the Beeb in any way. That way lies madness: Wheelchair Netball, Celebrity Netball, Celebrity Netball in a Jungle, Celebrity Comic Relief Para-disabled Netball on ice, Naked Netball on Love Island with Bare Grylls.
Anyway; just had to get that off my chest. It's been a busy few days and I didn't want to take Morning Assembly in a foul mood.
Gunner.
Nominated by Gunner Sugden