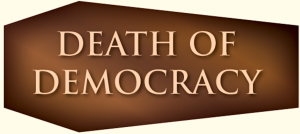 Democracy – we vote people in using "free, fair and accountable" elections, they work for us, are accountable to us and act in our interests..
No more.
Not much more I can add to that, except to say – I finally got that lying bastard Hancock bang to rights – months of being called a liar, a fool, a conspiracy theorist, and full of shit (Not by anyone on IAC apart from a somewhat abrasive "Red breasted bird of unmarried parentage" who no longer posts I hasten to add) – I submitted evidence that Hancock lied about the Nightingale hospitals being dismantled and 150+ videos of empty hospitals – now picked up, fact checked and proven by Richard Tice.
I have made a formal complaint to Sir Graham Brady, chairman of the 1922 Committee accusing Matt Handcock of misconduct in public office, and given the mountain of provable evidence I confidently expect Brady to do precisely fuck all.
Democracy is dead.
Back to my cup of tea.
Nominated by: Vernon Fox