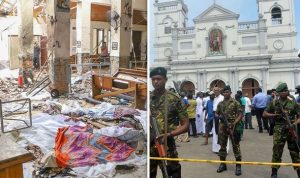 We have seen the dreadful attacks in Sri Lanka, seemingly aimed at random at Christians. Suicide bombers were used.
The peaceful population of Sri Lanka is roughly 10%. Yet they assume the right to maim and murder in a country where they are in a small minority.
The actions of China and Burma against these people, far from being excessive seem proportionate and sensible. The West should take note.
Nominated by Cuntstable Cuntbubble
with a further comment by Lord Benny.
40 muslims killed in their place of worship, the world stands still and a minuets silence rings out in parliaments across the world, hundreds killed, many more crippled for life and nothing said.
CC raises a valid point with his figures, indulge yourself in this video clip to understand what those figures mean.