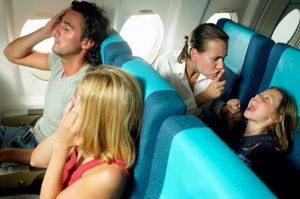 What kind of sadistic, selfish cunt brings young children onto a international flight? Fucking cunting parents that have no consideration for any fucker else.
Not only do they wish to ruin the start of there own vacation, but they take it upon themselves to fuck over every other cunt on the plane. Why not leave the orphan cunts at home with grandma and grandpa as payback for all the shit times they sent the little fuckers back home juiced up on lollies fizzy pop and snuff ( that grandpa accidentally left out on the armchair). But no, they decide it will be a good cunting idea to take the screaming "I want my fucking own way" little rascal shit bags with them, with there snotty noses, coughing and breathing out every cold/flu virus known to man.
There you sit, poised in your four square feet of personal space only to have the back of your chair repeatedly kicked by a snotty nose cunt called Declan ( fuck only nose why you'd call your kid 'Declan', but's that's another rant) while the mother watches "I'm a cunt on love island" and dads snoring after a few pints before hand because he had a sleepless night previous due to the fucking little turd.
Then there's the toddler screaming his FUCKING tiny lungs out, mum and the sperm donor trying there best to humour the little shit with coo coo sounds and it's all suppose to be excepted…. "Well it fucking ain't!" CUNTS!!! After an hour, air hostesses offers some kind of small squeaky toy, "sometimes not small enough I think" that pacified the little prick, their attention span being five minutes or less depending on how much alcohol was consumed on the night copulation was engaged. What is it with so called fucking parents these days, haven't they heard of Phenergan? Maybe I've got it all wrong and it's the airline fault by not accommodating for the TPPC
(Transit Parent Passenger Cunts)
Maybe they should include some kind of cattle pen in the baggage deck and herd the fuckers like animals, letting the inconsiderable parents and there young coo, baa, moo and wail together.
BAN CUNTS ON PLANES (Let it be noted I do not hate young children, and do blame the TPPC 100)
Nominated by Jase the pom