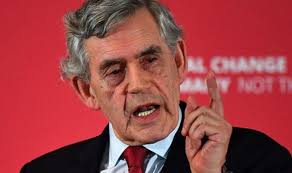 Let's hear it for a – not so much Golden – (more turd brown) oldie, Gordon Brown, the jock with little support, who was one of our worst, though thankfully shortest reigning Prime ministers,who since retirement has reinvented himself into some sort of seedy elder statesman (the sort who stinks of piss and carries a bag of Wurthers Originals round in his dirty mac).
Wee Broon has decided to hold forth on the Coronavirus, and the response to it:
https://www.theguardian.com/commentisfree/2020/mar/13/coronavirus-crisis-leaders-failing-gordon-brown
Our leaders are failing us – according to the man who sold our gold reserves at a giveaway price, and was such a fucking coward he sneaked in at the end of an EU meeting, hoping nobody would see him, to sign away more of our independence. Despite that he continues to be a self-righteous, self important, pious, smug crafty old cunt.
Blair's fuck buddy was a useless PM and an even worse commentator on life today, and he wouldn't be missed if he decided to fall into the arms of the Loch Ness Monster.
Broon – shut the McFuck up.
Nominated by W. C. Boggs