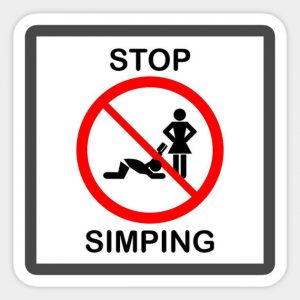 A nomination for what is known as 'simping'.
To be a simp is generally meant as putting women up on a pedestal, but more specifically it means to lavish them with money, gifts and attention when deep down you know the woman will never even touch you.
Simping is common amongst the Beta-cuck community who succumb to 'financial domination' from Vampirella lookalikes, and extends to the hapless gimps buying them macbooks via 'Wishlists'.
You'll find this sort of spunking of money on worthless tarts with a suite of personality disorders is defended by millennial, soy-sucking hacks with wispy bumfluff chin hair and hipster specs writing for digital 'news' outlets such as Buzzfeed, Gizmodo, Kokatu, Vice or The Mary Sue.
Some of these poor cunts delude themselves into thinking performing moderation for the 'E-thots' (cam girls) will get them into their boudoir. and when the 'model' reveals she has a boyfriend, the dork who manages her site and her livestreams and all the other techie bollocks feels his heart crumble to nothing, having been strung along – not by the pneumatic client – but by his own pathetic fantasy.
Simping mainly refers to online activities, but I would apply the term to some behaviour in the real world as well, one example is lapdancing clubs.
I don't understand the appeal; throwing money at women you can't even touch.
There's more dignity in visiting a brothel.
Nominated by Cuntamus Prime