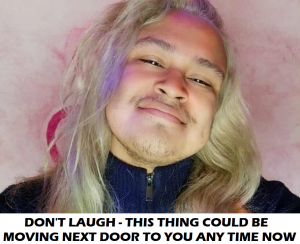 Another fine example of soft touch Britain becoming the dustbin of the world for assorted criminals, tërrörists and dêviänts.
https://www.theguardian.com/world/2020/dec/30/i-felt-like-i-was-born-again-first-non-binary-person-granted-uk-refugee-status
A Johnny Foreigner who won't live by the morals of its own country and so ends up inflicting its nasty habits on us.
No doubt everything it will ever want will be provided at the expense of you and I via a vast array of benefits and grants from the DSS/DWP and council with the NHS funding a new ringpiece or tîts & front bottom in due course.
Based on the image and information provided I can't imagine it has any useful skills to attract a potential employer or other attributes that benefit this country in any way whatsoever.
As El Salvador is a Spanish speaking country why the f*ck has this specimen sought refuge here instead of Spain or any number of countries around the world formerly run by the day-gos? Do the bull fighting fraternity not have their own frëãks?
Whatever happened to this country that we attract and can't be rid of paràsites like this and their various sponsors?
Nominated by: Dickie Dribbler